ROSE COHEN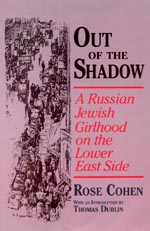 1880-1925
In her autobiography, Out of the Shadow: A Russian Jewish Girlhood on the Lower East Side, author Rose Cohen describes the difficult life of immigrants in the early 1900's. She knew it firsthand, having come to the United States with her family at age twelve. As a teenager, she was required to work. Her father had requested that Rose and her unmarried aunt be the first in the family to come to the United States, as there was demand for women workers in the garment industry. Rose worked first in the "sweat shop" making clothes, later as a domestic servant. Her comments about the demeaning nature of both jobs reveal the social inequality for both women and new immigrants to America.
"It was hard to eat at the table with her employer's family, though, so great was the contrast between the "soup, meat, [and] potatoes" served at their meals with the bread and sugar-sweetened water that her family ate. Rose had been on the weak side and had been protected from hard domestic work by her family, but she had to wash and iron clothes, scrub floors, scale fish and clean fowl, and run errands to the nearby store for her employer. And while those who employed her had beds to retire to, she was expected to throw two quilts over chairs when she turned in at the end of a hard day's work. After two months, concerned about the changes she sensed in herself, she quit domestic service, saying to herself, "I would rather work in a shop." There, though she might be put upon by a demanding boss, at least she could leave the shop at the end of the day and she didn't have to put up with the obvious inequalities that made domestic service such a trial for her." (Accessed on 12-14-10, http://www.jwa.org/discover/inthepast/readingseries/cohen/criticalessay.html)
As an adult, Rose was able to move beyond the confines of poverty, and with the help of Lillian Wald and the Henry Street House she found more satisfying employment. Rose eventually married and had one child, though she was later separated from her husband. Unfortunately, she died (or committed suicide) at age 45, while at the MacDowell Writer's Colony in Peterborough, New Hampshire. Many issues were unresolved in her life; and from her published work, it seems clear that her best writing came from her recollections of her youth.
"We can see in her autobiography an uncertainty and lack of confidence that speak to some confusion about her own identity and sense of purpose in life. She seemed most at home exploring the world of her Russian childhood and her changing identity on the Lower East Side. In the end, she seemed never to have made a sure transition into a new American identity. We have a poignant account of her old-world origins and new-world struggle that speaks to readers in the early twenty-first century as it did to her contemporaries eighty years ago." (Accessed on 12-12-03 http://www.jwa.org/discover/inthepast/readingseries/cohen/criticalessay.html)
WEBLINKS

Tenement Museum Virtual Tour: Take a virtual tour of an 1867 home on the Lower East Side.

RELATED LITERATURE
Cohen, Rose. Out of the Shadow: A Russian Jewish Girlhood on the Lower East Side. New York: Cornell University Press, 1995.