4. BUY ORGANICALLY PRODUCED FOOD
5. EAT FRESH, WHOLE FOODS
WITH ADEQUATE STARCH AND FIBER
6. EAT FEWER AND SMALLER ANIMAL PRODUCTS
7. CHOOSE MINIMALLY PROCESSED AND PACKAGED FOODS
8. PREPARE YOUR OWN MEALS AT HOME
How to Shop for the Earth, Cook for Your Health, and Bring Pleasure Back to Your Kitchen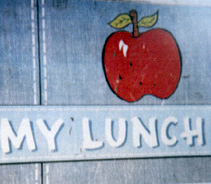 We want to feed our families and ourselves healthfully, and we've learned that to do so, we need variety in our diets. This means real fruits and veggies, grains, legumes and nuts, not just a collection of colorful processed products made of the same few ingredients and, increasingly, those that have been genetically engineered.
Doing the right thing for your family--eating a variety of fresh, whole foods purchased from local farmers--is also doing the right thing for the nation. The people who grow true variety for us are family farmers, so we need to keep them in business. These farmers care about the future of their land and farm with this in mind.
Yet powerful forces, year after year, are forcing farmers off the land in the name of "efficiency." American agriculture has substituted fossil fuel energy--to make pesticides and fertilizers, and run machines--for human beings on the land. Between 1979 and 1997, more than 300,000 family farms have gone out of business. On average, 90% of farm household income comes from activities related to farming. Yet large-scale farms receive twice the amount of government support that small farmers get. In response to market demands for processed foods and animal feed, these farms are increasingly planted with vast acreages of one or two varieties of single crops. This reduces genetic diversity for the sake of uniformity. Genetic engineering (GE) threatens to reduce diversity even more: 50% of the U.S. soy crop in 1999 was transgenic Roundup Ready.
It's time to support farming methods that preserve land, community, variety and the environment. By following Mothers & Others' Eight Simple Steps to the New Green Diet, you can make a difference.
By Joan Gussow, Ed.D.